Hungarian Plains Forestration Collection
- Bugac
Address:

6114, Bugac Felsőmonostor 545.

Phone number:

(76) 575-520

Opening hours:

15.05-15.09.
Permanent exhibitions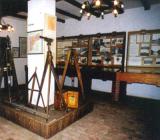 The indigenous forests of the Great Hungarian Plains had almost been destroyed under the Turkish occupation. The sand was fast spreading. Without its fixation it was impossible to cultivate the soil in many places. The idea of reforestation was brought about by economical necessity.