Mill Museum and Smithery
- Tés
Address:

8109, Tés Táncsics út 20.

Phone number:

(88) 469-007

Opening hours:

Mon-Sun 9-18
The village of Tés is the highest built settlement of the Bakony. It was built on the plateau which is 461 meters above see level. First the name of the village was mentioned in a charter from 1276. In the 15th century it belonged to the nerby Royal castle. Under the reign of the Turkish, in 1590 the village depopulated but in the 18th century people, who were the thralls of the provost of Székesfehérvár, started to occupy the village again. In the 1790s settlers from Germany arrived to Tés.

Permanent exhibitions
The forge preserving the memory of the tradesmen, smiths, cartwright of Tés is in the neighborhood of the mills. The artisans flourished in the 1920-30's, they made modern machines and equipments of farming such as the potato pawing and refilling machine.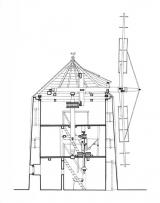 We can not find drinking water at the frontiers of Tés, our ancestors used the brisk winds of Bakony to operate their windmills. Two types of windmills, the 'Helt' and the 'Ozi' were erected at the bottom of the garden of 17 and 32 Táncsics Street. The vernacular memorials and those of the history of industry are the first things to see for the visiting tourists.

further exhibitions