Address:

8229, Paloznak Kisfaludy u.16.

Phone number:

(87) 446-250

Opening hours:

Temporarily closed.
Two mills on the road to Nosztré are mentioned in a contract between the widow Veszprémi György, Lady Liliom, and the Bishop of Veszprém written in 1277. Throughout centuries, six mills operated in the 'Csopaki Séd'.

Permanent exhibitions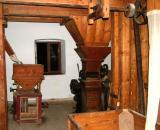 The Molnár Kálmán type of watermill was rebuilt in 1910. According to the Balaton researcher Dr. Zákonyi Ferenc, technically it is like the work of the plan cutters of the Bakony in the 19th century. The half-automatic mills worked like that: Crop was first cleaned on the attic. Then, it was poured into a double gullet.

further exhibitions