Kincsem Museum
- Tápiószentmárton
Address:

2711, Tápiószentmárton Sőregi út 1.

Phone number:

(29) 423-056

Opening hours:

Winter: On prior notice

Summer: 11-16
János Kocsi, the owner of the Kincsem Horse Park, conceived the idea of the museum. We created the museum in accordance with his wish, ideas, and utilizing his collection. The new treasure of the Horse Center of Tápiószentmárton was inaugurated on 20, March, 1999, on the 125 anniversary of Kincsem, the wonder stallion.

Tápiószentmárton is an interesting place from many perspectives. According to the descriptions of the count Ernő Blaskovich and Rhetor Priscos, the wooden palace of Attila was probably located in the town. A very significant finding from the Scythian age, the Golden Deer, was found here in 1924. It belongs to the National Museum now. Many relics from the New Stone Age, Bronze-, Copper, Iron-Sarmata age were also found. It proves that the area was occupied 4000-5000 BC.

The main aim of the foundation of the museum was to honor the horse, Kincsem. Its accomplishments are still unique: it won 54 races in a raw in 4 years. The other aim was to presents Tápiómente and Tápiószentmárton. We also present a small weapon and prize collection.

The Kincsem Museum is located in the center of the Kincsem Horse Park.

Permanent exhibitions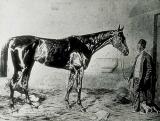 Kincsem "the magic mare" - the denominative of the horse-riding Paradise - was born in 1874 in Tápiószentmárton. Blaskovich Ernő was its horseman, keeper and beeder. The legendary figure of the history of the thoroughbred racing - Kincsem was never defeated during 54 races. Its keeper's main ambition in all his deeds was - "to be the first among the best".

further exhibitions