Kincsem Museum
- Tápiószentmárton
Address:

2711, Tápiószentmárton Sőregi út 1.

Phone number:

(29) 423-056

Opening hours:

Winter: On prior notice

Summer: 11-16
János Kocsi, the owner of the Kincsem Horse Park, conceived the idea of the museum. We created the museum in accordance with his wish, ideas, and utilizing his collection. The new treasure of the Horse Center of Tápiószentmárton was inaugurated on 20, March, 1999, on the 125 anniversary of Kincsem, the wonder stallion.

Permanent exhibitions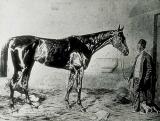 Kincsem "the magic mare" - the denominative of the horse-riding Paradise - was born in 1874 in Tápiószentmárton. Blaskovich Ernő was its horseman, keeper and beeder. The legendary figure of the history of the thoroughbred racing - Kincsem was never defeated during 54 races. Its keeper's main ambition in all his deeds was - "to be the first among the best".

further exhibitions