Éber Memorial Hall
- Baja - Szentistván
Address:

6500, Baja - Szentistván Jókai Mór utca 19.

Phone number:

(79) 324-216

Opening hours:

Temporarily closed.
Permanent exhibitions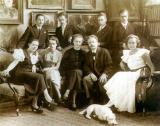 Elder Sándor Éber was born in 1878 in Ráckeresztúr. He was a student of Bertalan Székely between 1896 and 1900. He was mostly attracted to the work of fresco painting. He came to Baja in 1902, where he worked as a teacher for two decades. He made a great number of wall paintings and frescoes for ecclesiastical orders.