Éber Memorial Hall
- Baja - Szentistván
Address:

6500, Baja - Szentistván Jókai Mór utca 19.

Phone number:

(79) 324-216

Opening hours:

16.03-18.12.: Wed-Sat 10-16
If we walk down the quiet and norrow Jókai street in Baja, the attractive court of the Éber Memorial House will soon invite us inside, where the visitor is welcomed by the inheritance of Sándor Éber and his two children, Sándor Éber and Anna Éber.

Permanent exhibitions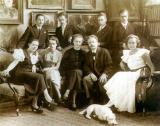 Elder Sándor Éber was born in 1878 in Ráckeresztúr. He was a student of Bertalan Székely between 1896 and 1900. He was mostly attracted to the work of fresco painting. He came to Baja in 1902, where he worked as a teacher for two decades. He made a great number of wall paintings and frescoes for ecclesiastical orders.

further exhibitions