Pottery Exhibition and the Collection of the Memories of Local History of Óbánya
- Óbánya
Address:

7695, Óbánya Fő u. 70.

Phone number:

(72) 463-494, (30) 348-4230
The donator offered over 150 potteries from Óbánya made in the 19-20th century for us if we provide proper accommodation for them initiated our exhibition. Our association accepted the condition and we opened the exhibition in one of the public buildings of the village on 5, July. 1997. Mrs. Lantos, Márta Imre, ethnographer, was of professional help. The appearance of the exhibition was fashioned by László Bátori, wood carver. Many by way of applications and individual donations supported the activity of our association.

We obtained many objects from the locals when the exhibition opened which made it possible for us to show the detail of the room, the decorations, woodcarvings, and textiles. We extended our show with the work of Antal Dechant, sculpture of Mecseknádasd. By the help of his works we learned the characteristics of clay. We managed to extend the exhibition with photo reproductions in 1998. The photos show the process of the work of the potters, the woodcutters, but thee are also photos of family celebrations.

The research works of the young historian, Ádám Lang thought us of the past glass trade of the village which had only been presented by glass works on the table before. The German name of the village, Altglashütte, includes this trade. The nice glass pieces were found by the children of the village and given to us. In 2000, we received a glass collection of 15 pieces made by the artist Gergely Pattantyús.

The family members who had moved out of the village still surprise us with an old object.

We welcome all visitors!

Permanent exhibitions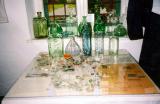 Óbánya, a tiny little village of the East-Mecsek region became well known for its potters and their richly ornamented, carved and scraped potteries about 100 years ago. The exhibition was set in memory of these masters.

further exhibitions