Pottery Exhibition and the Collection of the Memories of Local History of Óbánya
- Óbánya
Address:

7695, Óbánya Fő u. 70.

Phone number:

(72) 463-494, (30) 348-4230
The donator offered over 150 potteries from Óbánya made in the 19-20th century for us if we provide proper accommodation for them initiated our exhibition. Our association accepted the condition and we opened the exhibition in one of the public buildings of the village on 5, July. 1997. Mrs. Lantos, Márta Imre, ethnographer, was of professional help.

Permanent exhibitions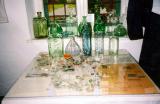 Óbánya, a tiny little village of the East-Mecsek region became well known for its potters and their richly ornamented, carved and scraped potteries about 100 years ago. The exhibition was set in memory of these masters.

further exhibitions