The Ravazdi Forestry of the Forestry of the Kisalföld Ltd.
- Ravazd
Address:

9091, Ravazd Erdészet út 1.

Phone number:

(96) 558-001, (20) 599-7838

Opening hours:

Mon-Sun 8-16
Permanent exhibitions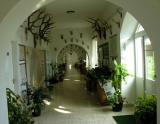 Pacing through the corridor of our museum, the visitors may see many pieces of interest. The maps made for foresters show the division of regions. We also show maps made for the public with places of interest and the road to them, as well as maps for historians.