The Ravazdi Forestry of the Forestry of the Kisalföld Ltd.
- Ravazd
Address:

9091, Ravazd Erdészet út 1.

Phone number:

(96) 558-001, (20) 599-7838

Opening hours:

Mon-Sun 8-16
The Collection of the History of Forestry is not far from the center of the village Ravaszd. The museum was established by the manager of the time Kocsis Mihály in 1996 to salute the masters of old times who defended and preserved the forests of the region Pannonhalma - Sokoró.

Permanent exhibitions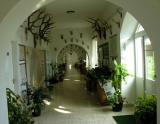 Pacing through the corridor of our museum, the visitors may see many pieces of interest. The maps made for foresters show the division of regions. We also show maps made for the public with places of interest and the road to them, as well as maps for historians.

further exhibitions