Hungarian Photography Museum
- Kecskemét
Address:

6000, Kecskemét Katona József tér 12.

Phone number:

(76) 483-221

Opening hours:

Wed-Sun 10-17
The idea of placing photographs in a museum appears at first in 1862. Ferenc Veress, a photographer in Kolozsvár, appeals to the official photographers of the country in the columns of Ország Tükre (The Mirror of the Country):

"Our photographers would do a great service to our country if they took pictures of eminent persons in the fields of science, art, industry and commerce, collecting them in order to give the pictures to the national museums. Personally, I've been planning to do this for years, and I will start this year. Indeed, my intention is to take pictures of famous persons with outstanding spiritual or material talents in the field of literature, art, business and industry, without excluding anybody because of nationality, religion or gender.

The other big service that photography could do for history would be to immortalize for future generations every antiquity, castle, ancient palace, church ruin and cavern that is still standing but could vanish within a decade."

This plan will be only partially achieved.

In December 1990 the Hungarian Foundation of Photography is created. Besides MFSZ, its initiators and most important supporters are FŐFOTÓ, Fényképész Rt., the Ministry of Education and Culture, Reanal Fine Chemical Factory, Forte, Fuji Magyarország Kft. and Nikon Magyarország Kft.

On 13th September 1991 the technical handing over of the renovated building takes place.

In December the Hungarian Museum of Photography opens its doors under the direction of Károly  Kincses.

The year after its opening, the director invited dr. Magdolna Kolta to carry out the deputy director position, in order to contribute to the functioning and to the scientific work of the museum. Due to their cooperation the initial number of the collection of the museum has been multiplied, as well as the inventory of the collection has been started. They published several lacking works on the theme of the Hungarian photography within the two collections launched by them.

Their collaboration ended with the death of dr. Magdolna Kolta on the 1st June 2005. After this period, and from the 1st January 2006, Péter Baki occupies the post of director of the museum.


Permanent exhibitions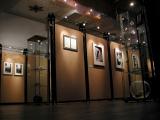 Hungarian and international technical photographic collections, from the travel camears to digital cameras, stereo cameras to enlagers, inheritance of famous and less-known photographers.

further exhibitions