Budapest Museum of Fine Arts
- Budapest
Address:

1146, Budapest Dózsa György út 41.

Phone number:

(1) 469-7100

Opening hours:

Temporarily closed.
The exhibition has closed for visitors.
2010.09.30.
-
2011.02.20.
Museum tickets, service costs:
Ticket for adults

(valid for the permanent exhibitions)

2800 HUF

/ capita

Ticket for adults

3200 HUF

Group ticket for adults

2900 HUF

Ticket for students

(valid for the permanent exhibitions)

1400 HUF

/ capita

Ticket for students

1600 HUF

Group ticket for students

1400 HUF

Ticket for pensioners

(valid for the permanent exhibitions)

1400 HUF

/ capita

Audio guide

800 HUF

Video

1000 HUF
Works by Colombian-born Fernando Botero will be presented at the exhibition to run at the Museum of Fine Arts from the end of September. It is the first time the Hungarian public will have the opportunity to see the works of the popular contemporary artist: some sixty, mostly monumental oil paintings and sculptures will provide a comprehensive picture of the last twenty years of Botero's oeuvre.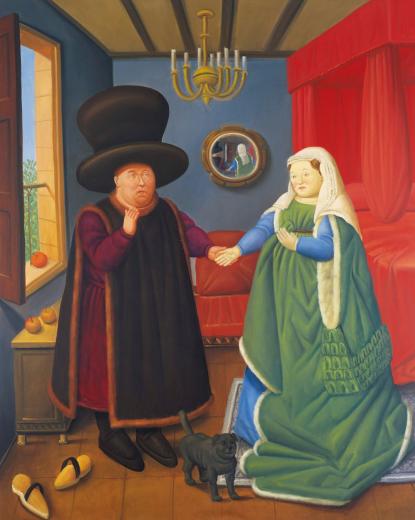 The works of the outstandingly prolific Fernando Botero, born in 1932, will allow an insight into a unique world characterised by a striving for monumentality and timelessness. The exhibition will also demonstrate how the Colombian artist, whose life has been one of adventure, draws inspiration on and pays tribute to the classic European masters while inviting visitors to the vibrant and colourful land of Latin America.
The unique idiom of Fernando Botero extolling the sensuousness of form is a result of a long gestation period. The Colombian artist has given new meaning to figural art, which is rooted in classical Italian traditions, and he has discovered the myth-creating power of the world of Latin America. Thanks to his committed work as well as a comprehensive and original language drawing on various sources and his own experiences, Botero has created a world parallel to the physical one.
Characteristic elements of his world are voluptuous, inward-looking characters which are absurd and amicable at the same time; large-size succulent still-lifes; as well as unexpected places and impossible situations pervaded by an air of poetry, nostalgia and sometimes irony.
Through his works Botero gives voice to his optimism and positive approach to life; he glorifies richness, form, seeing and touching, and extols calm and monumentality. He realises that art is a realm of the imagination and personal experiences, while he also makes a declaration against barbarism and reminds us that the beauty of life is transient. Although remaining faithful to the traditions of his native land, Botero has reached the peak of his career as a universal artist.
In addition to being a truly Latin American painter, Botero's idiom is understandable for all. To illustrate this universality four rooms of the Old Masters' Gallery have been converted to display the artist's works which will be interspersed with the odd canvases of the museum's permanent collection. These sporadically scattered, "sneaked-in" paintings will help visitors to better understand Botero's humour and the artistic precedents he used, and at the same time form a bridge between the old and the new and thus contextualise the Colombian artist's language.
The canvases can be divided into several thematic groups: still-lifes, paraphrases, the places and events of Latin American life: characteristic Colombian landscapes, the cavalcade of streets strewn with colourful houses, circuses and bullfighting arenas. However, the organisers have looked beyond a merely thematic approach and also focussed on the precedents Botero used for his work. Therefore, perhaps the most revealing chapter of the exhibition is the introductory part of paraphrases. Botero's reinterpretations of famous paintings - in our case Velázquez's portrait of
Infanta Margarita Teresa or The Arnolfini Portrait
by Van Eyck - form an important part of his oeuvre and demonstrate the numerous influences Botero blended and reinterpreted according to his own aesthetic principles.
Rotund and voluptuous forms, characteristically simple and expressive figures, people, animals and objects dominate Botero's still-lifes, paraphrases, colourful streets, houses, arenas and circuses filled with scenes of everyday life. The key to his works is a kind of uniformity: the Colombian painter renders visible his ideas about the physical world and its individual phenomena with simplicity and an often static quality free of exuberance based on the most elemental gestures. At the same time, his sculptures are characters that seem to step out of paintings into three-dimensional space where voluptuousness is substantiated into monumentality.
On the one hand, the Budapest exhibition seeks to present the most recent works of one of the most famous contemporary representatives of Latin American painting - Botero's works can be found in public collection in Japan, Russia, Finland, Italy, Israel, Colombia and the United States - while drawing attention to their intellectual and pictorial precedents; and on the other hand, it aims to provide an insight into modern Latin American art.