György Ráth Villa
- Budapest
Address:

1068, Budapest Városligeti fasor 12.

Phone number:

(1) 416-9601

Opening hours:

Tue-Sun 10-18
The exhibition has closed for visitors.
Museum tickets, service costs:
| | | |
| --- | --- | --- |
| Ticket for adults | 2000 HUF | |
| Ticket for students | 1000 HUF | |
| Ticket for pensioners | 1000 HUF | |
| Ticket for families | 4000 HUF | |
| Walk ticket | 1200 HUF | |
| Video | 1000 HUF | |
| Wedding photographs | 15000 HUF | |
The art exhibition presents a selection from the collection consisting of over 1000 Japanese woodcuts, nearly 180 books with woodcuts and 340 hanging scrolls. In Hungary, the last time the collection was shown in the Museum of Fine Arts in 1910. The visitors will also find a number of books written on Japanese culture and art. The exhibition is to commemorate Peter Vay who played crucial role in bringing Japanese culture to Hungary. We also hope to commemorate the process of collecting eastern art.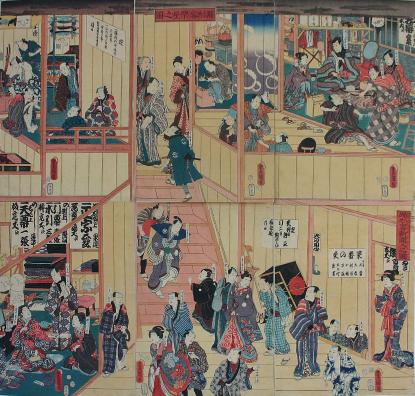 Péter Vay (1864-1948) was born in a village, just 50 kms from Budapest, in Gyón (today Dabas) into a well-known noble family. After studying theology in Rome, he was ordained Roman Catholic priest in 1898. He travelled the world visiting ecclesiastical missions. He was mostly enchanted by his time he spent at missions in Asia, especially in Japan, China and Korea. During one of his journeys in Japan in 1907, he proposed to buy various items for the Museum of Fine Arts. Albert Apponyi, then Minister of Religion and Public Education, provided for 20.000 korona for the purpose. The collection of over 2500 items Péter Vay purchased in Japan was first shown in 1908, then again in 1910 in the Museum of Fine Arts. The Japanese collection was incorporated by the Ferenc Hopp Museum of Eastern Asiatic Art.
During his journeys, Péter Vay studied the culture of Far Eastern countries with honest interest and vast background knowledge. He was enchanted by the art of the east. He was the first to write about the history of Japanese art in Hungarian
("The Art and Taste of East", 1908)
.
The woodcut collection he purchased in Japan fives a comprehensive picture of woodcut art in Japan in the 19th century. There are works of art by the famed masters of the time, artists of the Utagava School. Péter Vay also gave a representative review of the then popular woodcut topic. The first part of this section is made up of pictures related to travelling, and landscapes. One of the favoured topics of Utagaga School masters were beautiful women. It really means works of art with themes of female's appearance and habits. The second part of the section is woodcut portraits of women. The third thematic unit remembers Japanese theatre, their interior, dressing rooms, stages, as well as the Kabuki actors.