István Nagy Gallery
- Baja - Szentistván
Address:

6500, Baja - Szentistván Arany János u. 1.

Phone number:

(79) 325-649

Opening hours:

13.03-19.12.: Wed-Sat 10-16
The exhibition has closed for visitors.
Museum tickets, service costs:
| | | |
| --- | --- | --- |
| Ticket for adults | 460 HUF | |
| Ticket for students | 230 HUF | |
| Ticket for pensioners | 230 HUF | |
| Guide | 600 HUF | |
| Guide | 2000 HUF | |
| Photography | 300 HUF | |
| Video | 1000 HUF | |
Győző Somogyi is one of the strangest figures of contemporary art. He spectacularly refuses to take part in discussion on contemporary art and with artists. He contemplates the reality of Hungarian past and present from a kind of lodge, with fine elegance, excellent humour, spicy irony and headstrong consistency. He seemingly gave up all contact with the rulers of this present world. Instead, he turns towards victims on the altar of the past. Yet, he lets his contemporaries into his lodge, but only those who, just like him, avoid popular trends and ostentatious humbug.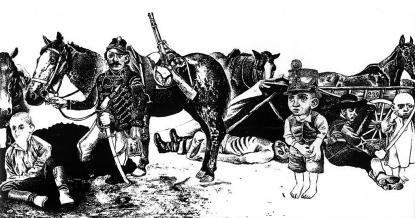 Győző Somogyi was born in 1942 in Budapest in an officer railroad family where he was given bourgeois upraising. Due to his talent, he enrolled an arts grammar school. He graduated from grammar school in 1960. From 1960 to 1964 he worked at the Kossuth Print as a trained worker. From 1962 he began to study theology while working. From 1968 he received his doctorate from the Roman Catholic Theological Academy. He was accepted to the Archdiocese of Esztegom as a priest. As a curate, Győző Somogyi tried to put the 'good news' of the gospels into practice. Wherever he was in service, he tried to gather the youth. However, gathering became unpleasant even for the church members, so he was acquitted in 1975. Thus, as a priest who was forced to live worldly life, he took on the 'underground church' himself. He led arts study groups both in Budapest and the country. His studio was open for everyone.
In 1977 he was unexpectedly awarded with the Grand Prize of the Miskolc Graphic Biennial. With this, the artists accepted him as fellow artist. From 1975, he spent his time with what he originally intended to do: gospels. Since 'there is an inevitable need of Moses and the fire poles to set up connection between God and Man. The artist took on part of the role of the priest. Every artist receives a kind of anointment; an invisible hand touches them all. The artist must understand it ethically too.' - said Győző Somogyi.
It is not possible to teach the art of Győző Somogyi at schools and should not be done. It is impossible to come up with general interpretations of his artworks. If we still want to say something, there is one thing we can: he puts his message into pictures in the triangle of nation-nature, belief, and wholeness. He remained naive in his pictures, sacred, surreal, and historicising while he kept to his intention to create icons. The aura of his black-and white graphics is built on deliberate, deep, lines showing essence. His canvas became symbols of the apocryphal folk prayers, influenced by milestones in Hungarian history, loneliness, no fatelessness, and defencelessness. He made the x-rays of human mind with his colour work of arts, his prints, and his resolutions. 'The resolution of a painting into colours happens in the head of the man. The patch-like painting results from this.
His individual method as a painter is pure, childlike, exotic and authentic. The topic of his artworks is parables, apocalyptic visions, cultic landscapes and villages, as well as events from Hungarian history and symbolic scenes of life. With his educated skill and succinct composition, lively colours, he conjures up magnetic scene of slow contemplation. In Győző Somogyi's art, past and present shake hands in the space of timelessness. His language and thematic is untraditional. He freed himself from modern traditions to be able to lead his art out of a stonified world. The boundaries of painting open up in front of him and the other side of this gender becomes visible. It is the Promised Land. It is the new path for art on top of which something of the essence of God will be seen. The visitors to the exhibition of the Győző Somogyi exhibition can see one stage of this journey this time: his paintings of the War of Independence of 1848-49.