Museum of Applied Arts
- Budapest
Address:

1091, Budapest Üllői út 33-37.

Opening hours:

Tue-Fri-Sun 10-18
The exhibition has closed for visitors.
As a result of three decades of patronage, the court of Hungarian king Matthias Corvinus joined the most fashionable trends of late Gothic and Italian early Renaissance art, and the Hungarian royal court was on par with other European courts. A notable group of objects around the ruler were objects of Italian majolica art. Italian majolica with its lustrous tin glaze was the noblest form of European ceramics during the 15th and 16th centuries. Its technique of Middle-eastern origin was introduced into Italy through Muslim and Spanish channels.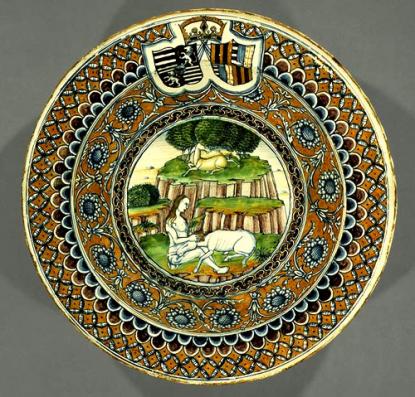 The young wife of King Matthias, Beatrix of Aragon knew and loved these objects already before their marriage in 1476. When asked, Cesare Valentini, the ambassador of Ferrarra recommended to the sister of the Queen, Princess Eleonor, to give majolica works from Faenza to her sister, as she is particularly fond of them and prizes them more than silver.
Majolica works of Italian origin appeared in great number in the Hungarian court, stemming from the most important centres of Italian ceramics. It is also very important that Matthias established a majolica workshop in Buda, to ensure the local production of Italian masters. Apart from the important finds of the Buda castle of Matthias, comparable objects and fragments were discovered in several other residences of the king in the country.
The significant majolica collection of the Museum of Applied Arts was last seen by the public about twenty years ago, on the exhibition "Renaissance and Mannerism". Several new publications and discoveries were made in these twenty years, which make the identification of pieces in Hungarian collections more precise, and shed more light on the majolica workshop in Hungary. With the broadening of cultural connections within Hungary and especially with Italy, there is now a chance to examine the activity of the Buda majolica workshop in the larger context of the origins of Italian majolica art.
The goal of this exhibition is twofold: to present the 15th century origins of Italian majolica art while presenting its most important monuments, and second: to study and demonstrate the origins and creation of works in the majolica workshop of Buda. The exhibition will therefore examine in great detail the cities and workshop from which Italian majolica objects came to Hungary. After the overview of the Italian beginnings, the exhibition will aim for a large-scale and complete presentation of Hungarian examples of Italian majolica work, in the context of the reception of this art form north of the Alps. To round off the picture, the exhibition will also present the expansion of majolica art during the first decades of the 16th century. By a parallel display of archaeological finds from Hungary and similar types of objects preserved in Hungarian and foreign museums, the exhibition will fulfil its goal of an aesthetically satisfying presentation of historical evidence.
The exhibition and its scholarly catalogue aim to summarize and expand upon the research of the last two decades.