Address:

1014, Budapest Ybl Miklós tér 2-6.

Phone number:

(1) 225-0554 /292

Opening hours:

Tue-Sun 10-18

Neoreneszánsz Garden: Mon-Sun 10-18
The exhibition has closed for visitors.
2015.11.10.
-
2016.05.29.
Although one of the strongest representatives of 20th century Hungarian painting, unfortunately, little light was shed on József Koszta (1861-1949) in Recent Decades.. Although his works are featured in almost all collective exhibition related to the era, therefore the artist cannot be missed at any of these exhibitions, his last collective exhibition took place in Budapest 60 years ago - a year before his death -, in1948 at the National Salon took following his awarding with the Kossuth Prize.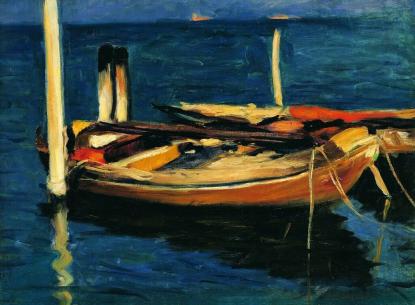 József Koszta's art was a new voice in the history of Hungarian art, of which only very few exists. His paintings heated by internal anger were considered typical Hungarian around the world. Koszta's profound works rich in colour and meaning strikingly reproduce the relationship between people and the land they lived on. This man, who started his life and career in Transylvania, then, after thorough professional training and field trips across the country, persistently sought the most suitable place to live, which he ultimately found in the lowland farmland in the suburbs of Szentes. The art colonies in Nagybánya and Szolnok did not mean attraction for him for long. His desire for freedom and headstrong separation was legendary. With his suggestive dramatic, typically rugged style he became of land close to the style he became an autonomous follower of Munkácsy's, while his aspirations also ran in parallel with contemporary European trends. His heightened use of color made a connection between him and the Wild Ones. The modernity of his paintings render them a striking modern feature.
The comprehensive exhibition of József Katona presents nearly one hundred paintings, period photos and a number of documents related to the most important milestones and changes in the painter's artistic development. The exhibition is primarily to answer the question as to how traditional Hungarian visual representation took on European standard by the brushstrokes of an artist who could and dared to look at his everyday life and familiar surroundings through modern European eyes.
The material features his most important works of art in addition to rarely shown pictures, which have little or not at all seen by the public so far. One of these rarities is the copy of a Filippino Lippi painting which sheds light on how the young painter József Koszta trained himself.