Address:

4026, Debrecen Déri tér 1.

Phone number:

(52) 322-207

Opening hours:

01.11-15.04: Tue-Sat 9-16, 16.04-31.10.: Tue-Sun 10-18
Museum tickets, service costs:
Individual combined ticket for adults

(valid for the MODEM + Déri Museum + Debrecen Literary Museum)

2000 HUF

Individual combined ticket for students

(valid for the MODEM + Déri Museum + Debrecen Literary Museum)

1000 HUF

Individual combined ticket for pensioners

(valid for the MODEM + Déri Museum + Debrecen Literary Museum)

1000 HUF

Combined ticket for families

(valid for the MODEM + Déri Museum + Debrecen Literary Museum, 2 adults + max.3 children)

4000 HUF

/ family

Group guide

(Munkácsy-trilogy + MODEM)

3000 HUF

/ group
The literary hall deals with changes in the cityscape by parallel presenting the life and cult of Mihály Csokonai Vitéz. The exhibition space consists of three interconnected locations related to Csokonai - the Botanical Garden, the Memorial Garden and the Graveyard - these are displayed as an imaginary garden, which serves as a places for sitting and contemplation.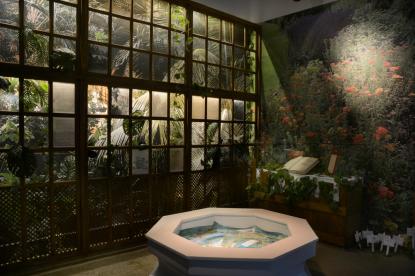 The Botanical Garden is the work of the Botanic Circle of the members of which consisted of Mihály Fazekas, János Földi József Szentgyörgyi and also Csokonai. The figure of the poet who considered the garden as a final refuge, a place for contemplation is shown in the Botanical Garden, with his poems and word collection about botany as well as his contribution to the work at the garden.
The graveyard in Hatvan Street, with the tomb of Csokonai as the symbol of Arcadia Trial, which was about the ownership of Csokonai's memory Ferenc Kazinczy vs. people of Debrecen. At this stage of the cult the pedestal would only be for the idealized author who only existed in verses, who at that point was not even known in his hometown. People only talked about the magical legends of the student Csokonai, the author of humorous poems and the rebellion against order.
The driving force behind the exhibition at the Memorial Garden was the fire of the year 1802 after which space behind the Great Church were left by their tenants but were used on literary and historic events. A fenced sculpture park was designed there, where the statue by Miklós Izsó was on Csokonai was erected, signalling the commitment of the citizens of Debrecen towards Csokonai. The statue 'Dying Lion' was temporarily located there, too. Then András Tóth's "Hungaria" - the site is now occupied by Bocskai's statue - 'The Galley Slaves' and the bronze cinerary bucket that preserved the memories of the Protestant Church and benefactors of the College, István Szombathy and Zsuzsanna Veresmarty.