Hungarian Museum of Trade and Tourism
- Budapest
Address:

1036, Budapest Korona tér 1.

Phone number:

(1) 212-1245

Opening hours:

Tue-Sun 10-18
Museum tickets, service costs:
Ticket for adults

1000 HUF

/ capita

Ticket for students

500 HUF

/ capita

Ticket for pensioners

500 HUF

/ capita

Ticket for families

(2 adults + 1 child)

2000 HUF

/ family

Ticket

640 HUF

/ capita

Guide

2000 HUF

Guide

3000 HUF
The new permanent exhibition presented by the Hungarian Museum of Trade and Tourism opens on 11 December 2014. The exhibition reviews the history of Hungarian civilian hospitality from the golden age in the late 19th century, to the Second World War. Locations of home and professional catering home is primarily presented through interiors, as if they were a municipal open air museum. The title came from the book of etiquette published by Károly Gundel and Frigyes Karinthy in 1933.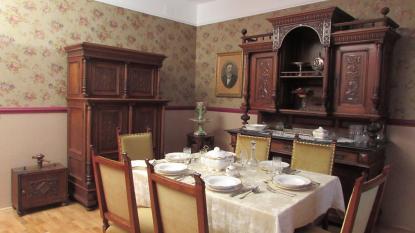 Visitors can learn about where and how citizens in the past spent their free time, where they, travelled, and whet they ordered at the table. Period contemporary hotels comes to life as well as a café and a restaurant, and a pastry pastry workshop. Home hospitality is evoked by a middle class home - with its kitchen, pantry, dining room and the furniture and also related fixed assets.

Those interested can gain insight into the world of contemporary clubs and spas as well. It will also turn out it is, which water was recommended for swimming and which for consumption. In addition, the visitor will also find out just why it was Gundel or Gerbeaud that became really successful . The biography of the great restaurant owners may serve as an encouragement for catering professionals.

Interactivity is a very a important part of the exhibition. The visitors can learn about the history of the most famous Hungarian dishes and sweets (Jókai bean soup, Palóc soup, Dobos cake) with their original recipes that made Hungarian cuisine famous. With the help of additional interactive content, ,we learn which café was the favourite place for celebrities of the time, and also, what maids, bellmen, chefs, or the work of a sommelier was like.

In connection with the new exhibition, a renewed museum educational programme can be enjoyed bu our old and new visitors. With the opening of the permanent exhibition on the history of trade, hospitality, the Hungarian Museum of Trade and Tourism feels completes in nearly ten years.