Hamza Collection and Jász Gallery
- Jászberény
Address:

5100, Jászberény Gyöngyösi út 7.

Phone number:

(57) 503-260, (57) 503-261

Opening hours:

01.04.-31.10.:Tue-Sat 10-18

01.11.31.03.: Tue-Sat 10-16
Museum tickets, service costs:
Ticket for adults

400 HUF

Group ticket for adults

(min. 10 people)

200 HUF

Ticket for students

200 HUF

Ticket for pensioners

200 HUF

Guide

500 HUF

Photography

500 HUF
The films of Hamza - our views on his oeuvre - are complex formations determined by our visual culture and by politics which influenced the story of a clear and consistent artist's European reception.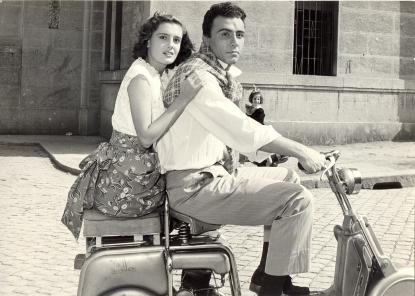 The exhibition presented here endeavors to give a survey of these interpretations, and at the same time seeks definitive links between each of the greatest film directors's life periods and Hungary. Through what kind of glasses did the local spectators see his films? Since when has he been considered an "Film Creator" and what is his heritage like? What kind of thoughts does his artistic legacy trigger today?
Born in Hódmezővásárhely and died in Jászberény, Hamza's career was mainly determined by his film producing and directing activity, complemented by his literary, journalistic and political work. Having completed his studies, he wanted to be a painter, so after graduating at the hungarian Academy of Arts in 1926, he travelled to Paris with a scholarship. Here, he got acquainted with fulm production only as a source of money making and worked as a boy, a scenery painter, then a scenery designer. Later, as he became more interested in the secrets of filmmaking, he spent more and more time in the studios. After some minor jobs, he also worked as assistant director and production manager. He was assistant to René Clair, whose avantgarde movies, then films infiltrated with poetic realism made a great impression on young Hamza. He returned home eleven years later in 1936 and found a job in Hunnia Film Factory first as a producer, then production supervisor.
With the experience he gained in Paris and Hungary, Hamza established his own company in 1938, Hamza Film. He worked as a producer and production manager with major directors of the era (János Vaszary, Béla Gaál, Béla Balogh, László Vajda, Ákos Ráthonyi, Lajos Zilahy). He began directing in 1940, and his first film was The Gyurkovics Boys based on Ferenc Herczeg's writing, achieving great success. Due to the sensitive topic of his next film, I am Guilty, he had to confront censorship. Sinfulness, aberrations and criminals were not favoured issues of Hungarian filmmaking at the time, but Hamza returned to it later, under the influence of the French school, in the Suburban Guard-house.
In January 1942, he started shooting Sirius with Katalin Karády and László Szilassy as leading caracters. This was his third film direction of the altogether eighteen movies in the making of which he took part at home.
After the end of the war, Hamza left Hungary. He moved to Italy, then to Brazil. In Italy he directed seven documentaries and films (Un giorno nel porto di Genova, Ponti e porte di Roma, La primavera del papa, Strano appuntamento, Cantoria d'Angeli, Italia, Il bel Tevere d'Oro), another one in Brazil (Quem matou Anabela).
Hamza D. Ákos returned home in 1989.