Museum of Óbuda
- Budapest
Museum tickets, service costs:
Ticket for adults

800 HUF

Group ticket for adults

600 HUF

/ capita

Ticket for students

400 HUF

Ticket for pensioners

400 HUF

Ticket for families

(2 adults + 2 children)

2000 HUF

/ family

Guide

1500 HUF

/ capita

Group guide

(from over 10 people)

200 HUF

/ capita

Audio guide

(deposit )

1000 HUF

Photography

1500 HUF

Video

1500 HUF
The Óbuda Museum is located in one of the nicest environments in Budapest, in the Baroque Zichy Castle at 1 Fő Square. The renovations of the building began in 2008. The new deign of the building is now in accordance with the designs of the square. The new permanent exhibition presents the rich history of Óbuda in three units, from the Middle Ages to the 1970s.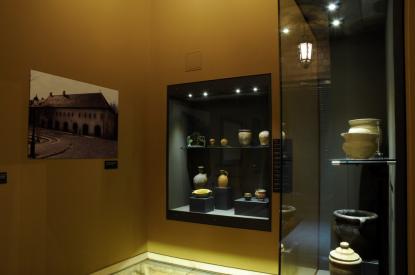 Our intention was to make the exhibition spectacular, fun, visitor- and school friendly. The spaces and the material both in the permanent and temporary exhibitions are to fulfil this purpose.
The new permanent exhibition endevaurs to connect past and present. Entering the exhibition room, the visitors find themselves stepping on cobble connecting the past of Óbuda with its present. And the journey in space and time begins.
The visitors find themselves in medieval Óbuda. It was an outstanding era in the history of the town as it was a royal centre those times. Just a few steps, and the visitors face the village-like small town. This unit deals with the history of the town from the Zichy era to the beginning of the 20th century. The next stop is the present times: the unit shows the demolition of the old buildings and the reconstruction of the new environment, along with all the changes of society that accompanied them.
If we feel after the visit, that we had coffee in the salon of the manor house with Miklós Zichy, or visited the workshop of the cooper Simon Tóbiás, or we just had a glass of red wine in a small inn in Óbuda, then we are not that far from reality. What we took part in the Óbuda Museum was a time travel.
The exhibition also lines up interactive elements and tasks for the visitors to work on. Audio guide in English provides help to visitors of other nationalities.