Address:

1185, Budapest Budapest - Ferihegy 2.

Phone number:

(20) 617-4141

Opening hours:

13.03-15.10.: 9-18

16.10-30.11.: Mon-Sun 9-16
Museum tickets, service costs:
| | | |
| --- | --- | --- |
| Ticket for adults | 1500 HUF | |
| Ticket for students | 800 HUF | |
| Ticket for pensioners | 800 HUF | |
| Ticket for families | 2800 HUF | |
The airplane arrived in Ferihegy on 1 April 1960 with Malév paintings. After the plane passed the technological check up, it first flew to Moscow on 25 May 1960. At the beginning, some problem occurred with the AI-20 A serial power plant so the plane could not even fight half of the set time. The power plants were replaced by "K" serial power plants in 1964.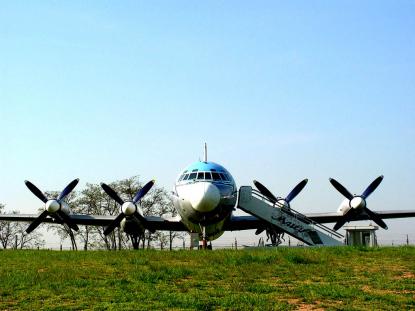 The cockpit and passenger area were rebuilt in this same year. Seats were added to the 89 seats to make it 105 and the plane was named "V" type.
This type was continuously replaced by new types, so this particular plane was remade into a fright plane in 1977. The seats, pantry and the bathrooms were all removed and a freight cabin was set up behind the cockpit and the crew resting room. During the next ten years, the plane mainly transported living animals to the Near-East and North Africa.
In 1987 the plane's time was up, it was not worth renewing contracts. The last flight it took on 19 February 1987. The plane spent 37197 hours in air and landed 17285 times.
After it took its last flight, the plane was taken over by the Museum of Transportation and was repainted to its original colours. It spent a lot of time in the technological foreground before it was towed over to the Memorial Park in October 1991 where it has been displayed ever since. Except for a short time when in 1992 it was temporarily moved back to the technological foreground for the shooting of the American film "The Dance of the Butterfly". Chinese markings were painted on the left side of the plane for the time of the shooting. The last Il-18 was manufactured in the spring of 1969. Altogether 564 plus the prototype were made of this type.