Etnographical Private Collection of Jun. József Lele
- Szeged - Tápé
Address:

6753, Szeged - Tápé Vártó utca 4.

Phone number:

(62) 631-996

Opening hours:

Temporarily closed.
We can hear every now and again about memorial rooms opened in honour of ecclesiastic or worldly people. The furnishing of these rooms remind the visitors of these people. Whenever he enters the room, the spirit of the honoured person touches him. We are happy to visit these places, especially if the person served a good example for us.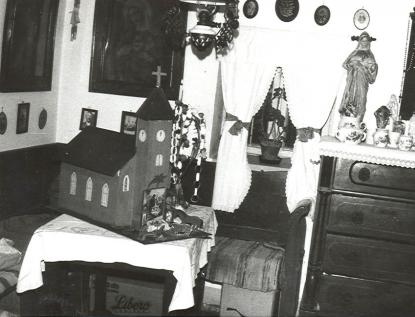 An old woman died recently in my village, Tápa. Her TV set blew up and the smoke coming out of it killed her. Her name was Rozália Kónya. Her mother Mrs Török was a healer while her father rang the church bell for decades. This shows that this good family lived in faith, just as other families in Tápa.
Aunt Rozi and her husband moved to Tápairét on the right side of the Tisza at a young age. She became the leader of the Reader Society with mostly female members. She helped in the organization of traditional fairs where she managed the so-called Maria girls. She also organized a monthly held messes in homestead schools along with Palika Kószó and others. She had three sons, István, Antal and János. Aunt Rozi never forgot about weaving, working at the farm, raising her children and caring for the spirit of those who leaved in the bleaks.
She moved back to Tápa in 1970 when her parents died. She and her husband inherited the furnished house of her parents built before the flood of 1879. Aunt Rozi did not stop working. She became leader of prayer groups along with Mrs. Nyinkó. She took part in the organization of ecclesiastic programs, in tending the chapel and shel helped selling the so-called Saint Secrets. She also had time for us, ethnographers. Sándor Bálint visited her and other important researchers since Aunt Rozi remembered the times of her mother and grandmother.
Since Aunt Rozi was born in 1906 she preserved the traditions of Tápé. Her work was like a mission which is now remembered via a memorial room in Tápé proving that a simple peasant woman can be honoured after her death.
As it is an unusual memorial exhibition, I ask my readers to help us with old memories of Tápa.
József Lelé Jr.