Nagy Dezső Cultural center and Village Museum
- Cigánd
Address:

3973, Cigánd Fő u. 54.

Phone number:

(47) 534-012

Opening hours:

Prior notice via telephone: +36 (47) 534-012, at weekends and on holidays on the phone number +36 (70) 626-8280 as well as the address of the County House anytime.
Museum tickets, service costs:
The first room presents the unheated clean room of the 1920's. The mixture of the grained and veneered furniture with the painted furniture of Sátoraljaújhely was typical in these rooms. The walls had hard ceramics from Hollóháza and Telkibánya on, as well as photos and certificates of merits.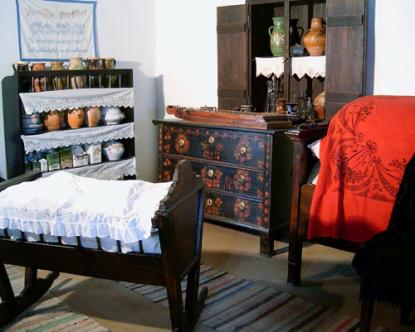 A typical feature of the houses was the bricks dented in the walls, a technique borrowed from the Middle Ages. It was called the 'blind hole'. The blind hole in our village museum is inside of a cupboard with two doors made by a carpenter. The chest of drawers was covered with a table cover and porcelain from Austria and Moravia, as well as ceramics from the Hills of Zemplén were placed on it. The floor was earth and was covered with rag carpet. There is a cradle next to the bed a with swaddling-cloth in it.
The porch is a reconstruction in its entirety. Four pillars hold the free chimney over the furnace. A smaller furnace is on its side, as well as a cauldron attached to it. An old man of Cigánd who saw his father making furnaces as a child built these. Plates ornament the walls.