József Koszta Museum
- Szentes
Address:

6600, Szentes Kossuth tér 1.

Phone number:

(30) 605-4680

Opening hours:

Temporarily closed.
Museum tickets, service costs:
Group ticket

(from over 10 people)

500 HUF

Ticket for adults

1500 HUF

Ticket for adults

1000 HUF

Ticket for students

1200 HUF

Ticket for students

600 HUF

Ticket for pensioners

1200 HUF

Ticket for pensioners

600 HUF

Ticket for families

(2 adults + 3 children)

4800 HUF

/ family

Program ticket

250 HUF

Program ticket

450 HUF

Guide

3500 HUF

Photography

500 HUF

Video

500 HUF
The plan cherished for decades by the Self-government of Szentes is to be realized since the Town's Hall is to be renovated. Part of the plan is that the Koszta József Museum, after whom the Hall is named, will also be located there. The museum sent in six applications in the framework of the Alfa Program announced by the Ministry of the National Cultural Heritage. The applications were all successful.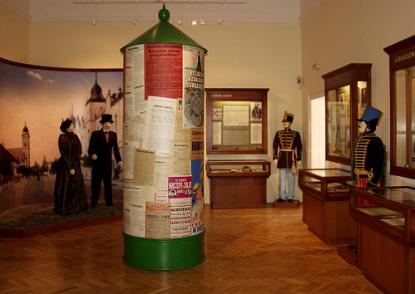 The first of the exhibitions titled 'Centuries of the Town of Szentes' opened on 15 March 2006. We show documents and objects of two millennia of the town in two units.
The interior that presents clothing of varied periods fits the display well. We show uniforms of a hussar and a guard from 1848, fashionable cloths of the end of the 19th century and the beginning of the 20th century in front of a large photo showing a contemporary street. The poles in the front inform the visitors of the past one and a half century's days of the town.
The walls of the corridors connecting the wards hold portraits of the famed personae of the town.