Bihar Museum
- Berettyóújfalu
Address:

4100, Berettyóújfalu Kálvin tér 1.

Phone number:

(54) 402-390, (54) 500-340

Opening hours:

Mon-Fri- 10-16
Museum tickets, service costs:
Ticket for adults

500 HUF

Ticket for students

(6-26 years of age)

250 HUF

Ticket for pensioners

(62-70 years of age)

250 HUF

Group guide

(up to 25 people)

1000 HUF

/ group

Photography

500 HUF

Video

500 HUF
After WWI, on 30 April 1920, the town of Berettyóújfalu became the center of Csonka Bihar County. In 1922 great development began: electrification was done, schools, a new Town House, barracks and house for officers were built.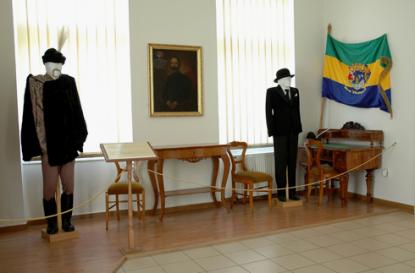 The Leventeház, the Count Tisza István Hospital and the Post Palace were built during the reign of the lord lieutenant Fráter László. The 'Statue of Heroes' and the Tisza Kálmán statue were erected in the Main Sqaure in 1933. Shops opened in the center of the town. Beside the fashion shops of Zádor Márton and Marschalkó József, the iron shop of the father of the writer Konrád György, Konrád József were the most important shops. From among industrial plants, the Nyíri Steam Mill was the most significant.
In the town that became the seat of the county, as the poet Nadányi Zoltán put it: there were 3 banks and 6 insurance companies, 12 cultural and 5 sports associations. There was a sports center, 10 tennis courts and a public pools. The father of the film director Makk Károly, Makk Kálmán opened the first movie theatre named Apollo in 1926. From 1920 to 1940 ten papers were published in town.