Bihar Museum
- Berettyóújfalu
Address:

4100, Berettyóújfalu Kálvin tér 1.

Phone number:

(54) 402-390, (54) 500-340

Opening hours:

Mon-Fri- 10-16
Museum tickets, service costs:
Ticket for adults

500 HUF

Ticket for students

(6-26 years of age)

250 HUF

Ticket for pensioners

(62-70 years of age)

250 HUF

Group guide

(up to 25 people)

1000 HUF

/ group

Photography

500 HUF

Video

500 HUF
The Tardy family was one of the famed families belonging to the Reformed Church in Bihar County. Their ancestors got charter in 1611. Bethlen Gábor confirmed it later. Their estates were situated in Csokaly and East from Berettyóújfalu, in Herpály.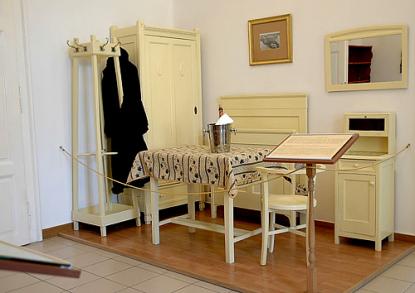 The landholder Tardy György (1862-1949) was a public figure of Berettyóújfalu. After attending the University of Arts, he returned home to his lands. He won several exhibitions with his painted furniture he himself carved out. In 1937, he published an article on the history of Berettyóújfalu.
It was Tardy György who saved the Lame Tower in Herpály. The towers were possibly built in 1170 and belonged to the Benedictine order. Tardy György renovated the towers in 1880 based on his owned design.
The father Tardy Sándor found a shield ornament of the Gepida tribe made of iron in 1849. The family donated the finding named "The Shield Wart of Herpály" to the National Museum in 1854.
Lisztes Imre (1843-1909) rent the inn named Stone Cellar from the Eszterházy family in Berettyóújfalu. He built a one-storey restaurant there. Aftr his death, his son Lisztes Lajos (1883-1946) took it over and renovated it again. From 1946 his daughter Anna took on the business until the nationalization in 1950.
When Berettyóújfalu became the seat of Csonka Bihar County in 1920, it was necessary to build a hotel. The building that had been called Lisztes restaurant was renovated in 1925-26. 200 ceramic dishes were made in Karlsbad (Karlovy Vary) with the inscription on them "Lisztes Restaurant". New bowls, silverware and furniture was also made for the new hotel.