Bihar Museum
- Berettyóújfalu
Address:

4100, Berettyóújfalu Kálvin tér 1.

Phone number:

(54) 402-390, (54) 500-340

Opening hours:

Temporarily closed.
Museum tickets, service costs:
Ticket for adults

500 HUF

Ticket for students

(6-26 years of age)

250 HUF

Ticket for pensioners

(62-70 years of age)

250 HUF

Group guide

(up to 25 people)

1000 HUF

/ group

Photography

500 HUF

Video

500 HUF
The objects exhibited are from the Barcsay-Székely Toy Collection, manufactured toys from 1930-1944, from the Royal Judge dr. Barcsay László Sr., from the forestry engineer dr. Barcsay László and the ecologist dr. Major István.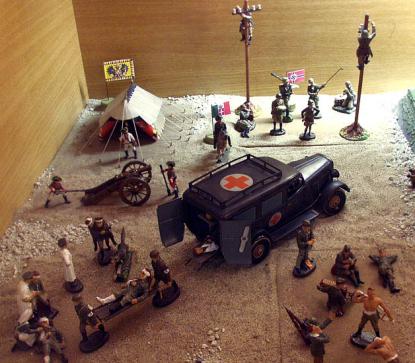 Toy soldiers were never exempt from the thousands-year history of humanity. It is not because people like wars but because they cannot live without them. However, kids like these toys for a very different reason.
The ornamented uniforms, the regulated lines, the enthusiastic marches catch the attention of children who love to admire the adults, who would like to do everything seriously, who still like the spirit surrounding military. They look at the Valiant john and Háry János with sparkling eyes and listen to the war stories of the grandfather.
Battles are unusual occasions in the lives of soldiers - said once a war historian. If we recall it, it is really only about ten percent spent in battle of the time a soldier spends in the army. The rest is training; drilling that warms body and soul. It is a regular occupation with involuntary rests, waiting and transport through which a community forms. Young boys become men. They will help when there is a flood; they organize things when hell comes in a dirty period of humanity. It is not by chance that not so long ago only those counted as men who fulfilled their times in the army.
This is just the same with the toy army. War games are not just shootings. It is marches, parades in front of the camps, fun in the breaks and time spent with making equipment. Only computer games full of shooting and bombings make horror of the kids' game.
This exhibition recalls the real war game, the history of wars of the Hungarians, the life of soldiers that was also put into songs. There are no war scenes, crops, ruins, but there is an ambulance, resting team, parading soldiers and variable uniforms.
The reconstructions of two Hungarian banners, as well as maps show the past of the soldiers of Bihar in Europe are shown in the hall. Songs and marches are played in the exhibition wards.