Bihar Museum
- Berettyóújfalu
Address:

4100, Berettyóújfalu Kálvin tér 1.

Phone number:

(54) 402-390, (54) 500-340

Opening hours:

Mon-Fri- 10-16
Museum tickets, service costs:
Ticket for adults

500 HUF

Ticket for students

(6-26 years of age)

250 HUF

Ticket for pensioners

(62-70 years of age)

250 HUF

Group guide

(up to 25 people)

1000 HUF

/ group

Photography

500 HUF

Video

500 HUF
The ethnographer Szűcs Sándor born in Biharnagybajom recorded the lifestyle of the people living along the Rivers Berettyó-Körösök, in the waters of Sárrét, as the last chronicler. He shows the shepherds, shamans, healers, outlaws, fishermen, fowlers in his stories written with artistic veins illustrated with his own drawings in publications titled 'In the World of the Old Sárrét(Bp. 1942) and 'In the Old Hungarian Water World' (Bp. 1977).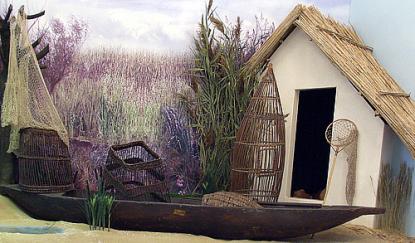 The exhibition presents this old world with the help of the drawings of Szűcs Sándor. The visitors may learn of the life of the people living there, the homestead, the fishing equipments, the most important plants of the water world, as well as interesting animals with the voice of some of them played from a taperecoreder.