Museum and Library of Hungarian Agriculture
- Budapest
Address:

1146, Budapest Városliget, Vajdahunyadvár

Phone number:

(1) 363-1117

Opening hours:

Temporarily closed.
Museum tickets, service costs:
| | | |
| --- | --- | --- |
| Individual ticket | 300 HUF | |
| Individual ticket | 600 HUF | |
| Ticket for adults | 1600 HUF | |
| Group ticket for adults | 500 HUF | |
| Ticket for students | 800 HUF | |
| Ticket for pensioners | 800 HUF | |
| Individual combined ticket for adults | 2100 HUF | |
| Individual combined ticket for students | 1300 HUF | |
| Individual combined ticket for pensioners | 1300 HUF | |
| Guide for adults | 5000 HUF | / capita |
| Group guide for students | 3000 HUF | |
| Group guide | 8000 HUF | |
The exhibition wishes to show the complete history of Hungarian agriculture from the beginning of food production to Hungary's joining the EU. It is a period of over 8000 years. In 2005, we showed the agricultural history until the establishment if the nature.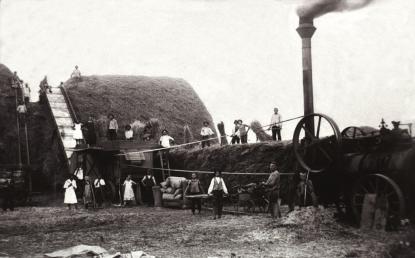 First ward:
The introduction of the period before the Original Settlement intends to prove that the present territory of Hungary was among the oldest agriculture area in the Carpathian Basin. The exhibition emphases on inventions that determined the development of agriculture. The simple but effective tools are such.
Second ward:
The Original Settlement brought on the possibility of a uniform agricultural system. After presenting the life of the original settlers, we show half nomad agriculture and the early Árpád age to show settled lifestyle.
Third ward:
We show tools and the lifestyle of the people of the Árpád age reconstructed by archeologists. In the 3rd ward we also show a village with its surroundings based on archeological work. The room under the glass floor and the reconstructed village part are closely related. The part under the glass demonstrates the circumstances of the excavation works. We show a house, a furnace and a few objects in their original size based on excavation works in Esztergom-Zsidód.
In Hungary, in the late Middle Ages the agricultural development sped up due to technical and technological inventions. The hardly populated forests were also included in farming. The serfs became legally more unified and their economic situation became more favorable.
In the first part of the 16th century Hungary got involved in the economy of the world. 16. In the second half of the 16th century the agricultural import grew. The most important product to import was cow and wine at that time. Graphics and artworks are to present this. The Turkish economic and cultural influence on Hungary and vica versa are shown via work tools and other finds. The tools of tillage show the importance agriculture took on.