The Ravazdi Forestry of the Forestry of the Kisalföld Ltd.
- Ravazd
Address:

9091, Ravazd Erdészet út 1.

Phone number:

(96) 558-001, (20) 599-7838

Opening hours:

Mon-Sun 8-16
Museum tickets, service costs:
| | | |
| --- | --- | --- |
| Ticket for adults | 200 HUF | |
| Ticket for students | 200 HUF | |
| Ticket for pensioners | 200 HUF | |
Pacing through the corridor of our museum, the visitors may see many pieces of interest. The maps made for foresters show the division of regions. We also show maps made for the public with places of interest and the road to them, as well as maps for historians.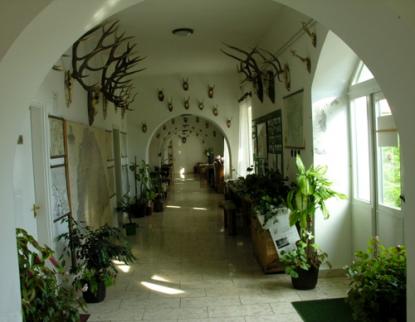 The Bavarian forester Anton Preuszlet made the most precious map of our display in 1799. It shows a forest that still belongs to the forestry. Walking on, the visitors see trophies, among them the antlers of a deer that is not native to Hungary but were acquired from Asia. Next there is a piece of a 300-year-old pedunculated oak tree. The tablets placed at the rings of the tree designate important events in history. We also show books on botanic from the second half of the 1800's. Stuff animals represent the typical animals.
The next section presents by-products of forestry, tools of wood procession and folk tradition in connection with wood. Wood accompanies man from the cradle to the coffin. It also makes our lives comfortable, is part of our lives in many forms from the equipment to furniture.
Many beliefs and costumes of the folk people are connected to wood. The green branch is the symbol of renewing nature. The children who play the so-called 'green branch walk' at Easter greet the arrival of spring. The Christmas tree and the Tree of life that mainly appears at weddings is also part of the life of the folk people.
We also present the life of foresters of the past whose work only becomes palpable in 80-100 years. Let us protect our environment not only for us but for our children too.