Kuny Domokos Museum
- Tata
Address:

2890, Tata Váralja u. 1-3.

Phone number:

(34) 381-251, (34) 381-251

Opening hours:

Temporarily closed.
Museum tickets, service costs:
Group ticket

650 HUF

/ capita

Ticket for adults

800 HUF

/ capita

Ticket for students

400 HUF

/ capita

Ticket for pensioners

400 HUF

/ capita

Ticket for families

(2 adults + 2 children)

1500 HUF

/ family

Individual combined ticket for adults

1200 HUF

Individual combined ticket for students

600 HUF

Individual combined ticket for pensioners

600 HUF

Group guide

(up to 10 people)

1500 HUF

Group guide

(11-30 people)

3000 HUF

Group guide

(31-40 people)

4500 HUF

Photography

1500 HUF

Video

1500 HUF

Wedding photographs

10000 HUF
Pieces of the Roman stone collection owned by the Museum of Tata were amassed from the entire county, but mainly from Azaum (Almásfüzitő), Szomód and Környe. The carved altar stones, inscribed tablets and embossed tombstones are located in the yard of the castle accompanied by sarcophaguses and wood carvings. The most beautiful stone carving, a pole with God figures carvings in both sides, is placed in front of the castle.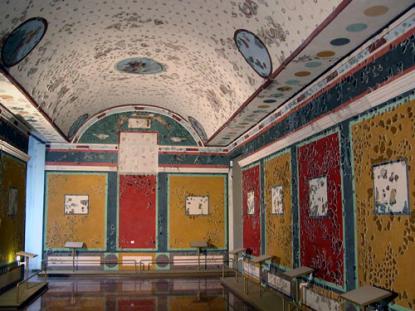 The room where the Roman exhibition is held opens from the stone collection. This room introduces life in the Roman province, articles and cultic objects. Terra sigillati, glasses, bronze statues, ceramics and bronze pots, jewellery and a military mask is part of this showing.
In the room upstairs, the reconstruction of a room with frescoes once located in Briegetio can be seen. Fragments from the 2nd century AD were found in 1961. The reconstruction of the frescoes took over three decades. Most of the scenes are involved with Greek mythology.
Carvings from the era of the kings Zsigmons and Mátyás are located downstairs, as well as relics from the Benedictine monastery of Vértesszentkereszt from the 12-13th century.
In an additional room memories from the middle ages found in Tata and its surroundings are displayed. Finds from the mansion and circle shaped church found at Öreg-Kovács Hill are located in this room.