Medical Historical and Pharmacy Exhibition
- Karcag
Address:

5300, Karcag Széchenyi sgt. 45.

Phone number:

(30) 377-3766

Opening hours:

On prior notice
The people called the pharmacy Solcz pharmacy after its owner Gábor Solcz (Szepesváry after 1943). Gábor Solcz was born in Komádi in 1886 and died in Karcag in 1967. He received his diploma from the University of Budapest in 1907 after which he worked in the pharmacy of his father in 1908-1910. He became a master pharmacist in 1909. In 1909, he received a permission to open a pharmacy himself.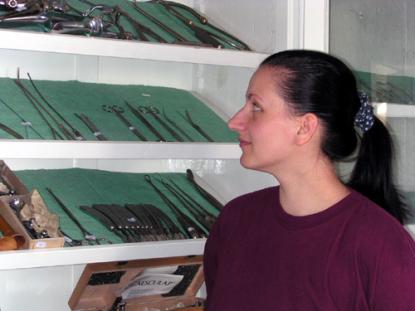 He opened his pharmacy in Karcag. He rented a building from the Hanis family who had just returned from America. In 1927, he bought a house for himself but he still rented the building of his pharmacy, which he had equipped himself. He became member of Royal Association of Natural sciences and the Association of Pharmacists. His pharmacy was nationalized in 1949. Gábor Solcz worked as a pharmacist for sixty years. He received The Diamond Charter in 1967.
The original owner ordered the furniture of the pharmacy made of oak tree. It is still preserved nowadays along with the equipment and tools. The jars are with all probability from the middle of the 20th century mainly of porcelain, glass, and in some cases wood. The counter, the scales, the pictures showing herbs are also original.
The pieces of the collection of medical history were given to the Gábor Kátai Hospital as presents. There are electronic instruments from the 1960's. We also present EKG machines, oscillometer, needles, and several other tools and equipments.
(György Elek: Contribution to the History of the Pharmacies and Hygiene of the Town of Karcag)