Mihály Tompa Memorial House
- Kelemér
Address:

3728, Kelemér Tompa Mihály út 61.

Phone number:

(30) 427-7567

Opening hours:

01.05-01.11.: Tue-Sun 10-18

02.11-30.04.: On prior notice
Museum tickets, service costs:
| | | |
| --- | --- | --- |
| Ticket for adults | 200 HUF | |
| Ticket for students | 100 HUF | |
Instead of his oeuvre, this memorial place introduces the years of the sufferer priest-poet Mihály Tompa spent in Kelemér. The exhibition has a significant value in the history of culture.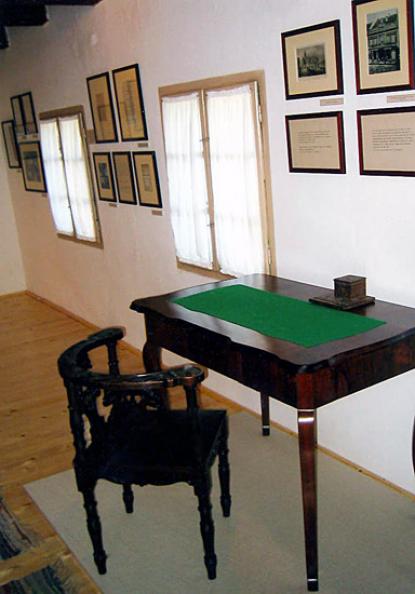 At the entrance hall of the exhibition the old Kelemér comes to life giving the atmosphere of the adequate era. The inner space gives account of the years Tompa spent in Kelemér and the works he created here. These are presented in three separate groups: events of his private life, his work as a priest, and his literal work. Tompa's desk and chair gives an intimate atmosphere to the exhibition.
Tompa was faithful to Gömör, he prayed from the bottom of his heart and wrote his poems here. The work of the village priest does not pay well, still Tompa chose to live in the village. The peace of the village and the county, the quietness of these are the things that matched his soul.
'Lyre and Bible, the two saintly friends
Happily lulls herself on her arms'

Letter to Karolina Pogány (excerpt)
The poetry of Tompa was not influenced so much by the revolution as the poetry of Petőfi was. But he grieved the failure of the revolution, and no one else did it with the same pain and more beauty.
The memorial house is next to the parish, at the bottom of the Reformed Church from the Middle Ages. Outside of the church and on the porch a collection of grave markers, characteristic of the Sajó-Valley are displayed which were collected by István Faggyas, from Aggtelek to villages along the River Sajó. Opposite to the pulpit, the plaque of Mihály Krasznai galley slave can be seen.
We invite you and all those who bears the poetry of Tompa in his/her heart, those who wish to evoke the memory of the poet at one of our country's precious places with love.