Albertfalva Region History Collection and School Museum
- Budapest
Address:

1116, Budapest Pentele utca 8.

Phone number:

(1) 208-6635

Opening hours:

Tue, Thu 16-18

(Closed in school breaks)
Museum tickets, service costs:
| | | |
| --- | --- | --- |
| Ticket | 100 HUF | |
| Group one-day ticket | 200 HUF | |
In 1980, when the museum was founded, there was not one photo of Albertfalva in its collection. Research began at this time and the collection was extended to the whole area.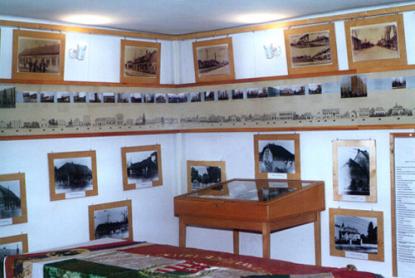 Our task was hardened by the fact that when the main street was broken up in order to give space for the new estate to be built, photos were not taken of the houses to be pulled down. It took nearly 20 years to make up a whole range of materials.
We managed to collect 12 postcards printed between 1900 and 1940. An enthusiastic inhabitant had taken some photos before the pull down, which he availed to us for use. As people moved all over the places, those remained here gave us their address. They were visited by the students who asked them for the photos taken of their old houses. However, the old main street could not be "built up" of the photos, for they were not taken of the front side.
But they were good enough to help us measure the whole street section and place the single houses on the street. Then an artist drew both sides of the street. That is how the whole line of houses were made in two 5-meter sections. Above the houses we can see the colored photographs of their present state. Thus the visitor might learn what kind of houses stood in the place of theirs 100-120 years ago.
Further pictures were arranged by certain subjects, such as:
- The last houses before pulling down,
- Merchants in front of their shops,
- Industry organizational memorials,
- Performance groups,
- Cultural programs,
- Postcards of Albertfalva.
The pictures were placed on layered plates (400 x 500 x 8 mm).