Museum of Local History
- Csenger
Address:

4765, Csenger Hősök tere 3.

Phone number:

(44) 715-209, (20) 560-5027

Opening hours:

Mon-Sat 9-12, 13-17

Sun 10-12, 14-17
The permanent exhibition is located in the Sports Hall of the Town. The sports life of our town is shown in six showcases. Our main interest was on the history of football. We show that of Csenger from the 1920's by the help of photos and objects.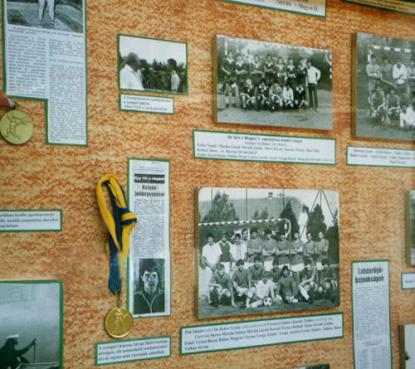 Sports began to develop among the population earning its living by agriculture only in the 1920's. Young merchants, tradesmen, and intellectuals founded the first team. Later the sports life was more organized. The first showcase presents this period.
In the next showcase the posters of the championship, the Spartakiads of the fifties, and the booming sports life of the sixties is shown. The Grammar School played an important part in it. Sports unknown up to that time appear through photos and relics.
The heydays of the football of Csenger are shown in another showcase. It lasted until the beginning of the 80's when our team played the 3rd division for the period of two seasons.
The last showcase presents the success of our handball players who played the 2nd division while the football players beat Debrecen and Szeged and were in the best 32 teams in the Hungarian Cup.
Off course, we wish to enlarge the exhibition in the future. Still, it is the determining spectacle of the Sports Hall.