Museum of Local History
- Csenger
Address:

4765, Csenger Hősök tere 3.

Phone number:

(44) 715-209, (20) 560-5027

Opening hours:

Mon-Sat 9-12, 13-17

Sun 10-12, 14-17
From the point of view of ethnography, Csenger is a characteristic settlement of the Szatmári Plain but mixed with the influence of Transylvania. It is less representative from the point of view of vernacular art.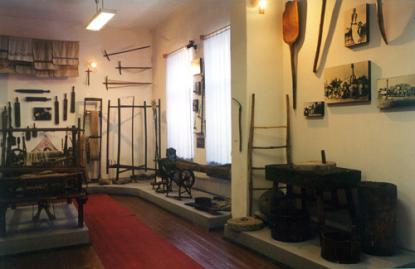 The tools of agriculture are organized in a thematic arrangement. The tools of preparation works, ploughs and biers represent cultivation. The harvesting was performed with wooden forks, and other tools. The memoirs of grain processing are the mills, shovels etc.
Hemp cultivation had significant tradition at the area since the region is rich in water. The equipments very different in shape are presented in the process of their use. In the middle of the ward an active loom was placed. The towels and another textile with typical motifs are hung on the walls.
Photos taken from the population and houses of Csenger recall the past. In the ward, a part is separated to represent the chamber where traditional jars, preserving tools, etc can be seen.
We may learn about the farming through photos as well as cowbells, and other objects.