The History of Water Supply Museum Piece Exhibition Ward
- Orosháza
Address:

5900, Orosháza Tas utca eleje

Phone number:

(68) 417-707

Opening hours:

01.04-01.10.: permanently

On prior notice other times are avaliable as well
The well museum of Orosháza, so popular in the town, needed a new storage a few years ago. This problem was sold by the donation of a smaller room by the Water Company of the Town. In 2002, a bigger room emptied which was also given to us to form a second exhibition ward.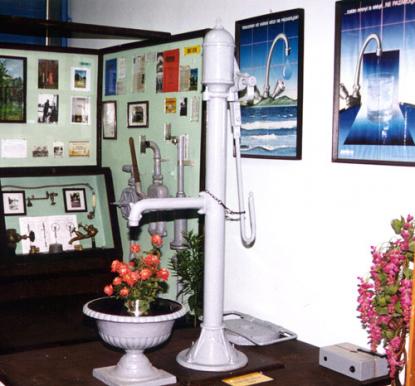 The furnishing of the exhibition was unusual. At the beginning of the year, the room was filled with large machines on a thick concrete floor. After the machines were removed the concrete stayed, thus the objects had to be built on it.
When entering the ward, the visitors first face a suction-pump well which foreshadows the center theme of the show: water - supply. On the left hand side, there are the water-carrier and other containers. In the next part we can see water and equipments. In between them, the old tools of washing are placed.
Different types of wells are located in the next section. Following these there is a new part: the sunken wells and memorial objects displayed with taste. We also show bathroom interiors with the common equipment of the 40's. After this scene, the visitors find themselves in front of the first object, the suction pump.
There is interesting information to learn at this well: first we may learn what the difference is between the sunken well and the wrought well. We may also learn that the sunken wells were called artificial wells for a long time and the water artificial water. However, the well of a village had a social significance. People could meet and have conversations at the wells, in some cases love formed between boy and girl. In cases like this, the boy helped the girl carry the can back home. In some cases, these relationships ended with weddings.
Before leaving the ward, the visitors may see a collection of drinking means in a show case.
Sándor Kiss Horváth