Exhibition Hall of the Police Historical Museum - Tarnaméra
- Tarnaméra
Address:

3284, Tarnaméra Árpád út 12.

Phone number:

(36) 479-514

Opening hours:

Temporarily closed.
The exhibition - entitled "The police institutions of the world" - demonstartes 127 uniforms of 91 countries in 5 exhibition rooms. Most of the uniforms were gifted to the museum on the 70th Committee of the Interpol.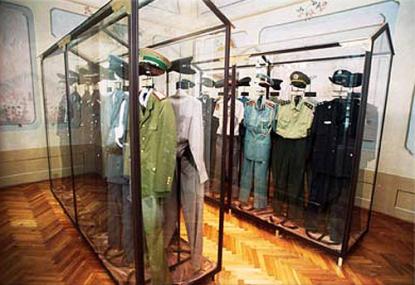 In the entrance hall a world map welcomes visitors, in which our connections to the police yards of the world are indicated, according to the system seen below:
- Interpol members (179),
- Europol members (10),
- IPA members (50),
- Countries where Hungarian police established UN piece missions (10),
- SECI members (10),
- countries where we got and exhibited uniforms (91),
- countries where students came from for the ILEA.
The high number of small flags indicate that these organisations based on professional friendship and co-operation are linked throughout the world.
The Hungarian police institution is well respected in foreign countries. According to police chronicles the work of the Hungarian police yard was well known for its fame as early as in the beginning of the 20th century. Our collegues are trying to follow this tradition.