Museum of the Royal Palace at Gödöllő
- Gödöllő
Address:

2100, Gödöllő Grassalkovich Kastély

Phone number:

(28) 420-331, (28) 430-864

Opening hours:

01.04-31.10.: Mon-Sun 10-18

09.02-31.03.: Tue-Sun 10-17
Museum tickets, service costs:
Ticket for adults

(60-70 min.)

2200 HUF

Ticket for adults

2900 HUF

Ticket for students

(60-70 min.)

1100 HUF

Ticket for students

1450 HUF

Ticket for pensioners

(60-70 min.)

1100 HUF

Ticket for families

(60-70 min.)

4600 HUF

/ family

Group guide

(1-9 people)

2800 HUF

/ group

Group guide

(10-25 people)

3300 HUF

/ group

Group guide

(1-9 people)

5300 HUF

/ group

Group guide

(10-25 people)

6500 HUF

/ group

Audio guide

800 HUF
The exhibition halls introduce the first century of the Castle and the family of the builder; the Grassalkoviches. In the fist hall the portrait of Antal Grassalkovich the 1st (1694-1771) opens the exhibition.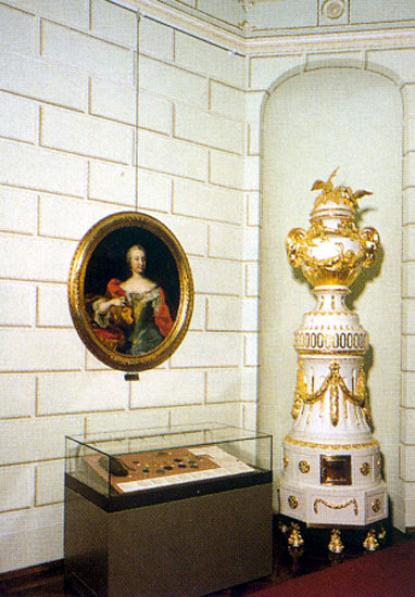 Grassalkovich who came from a lower noble family and had an education in law, - as a result of his talent - completed a career rising high. He had an important in rising the Queen to the throne, since during the Austrian War of Succession (1740-48) it was Grassalkovich who organised the support of the Hungarian nobility. As a reward for the successful increase of the wealth of the chamber, Antal Grassalkovich the 1st was risen to the rank of a count by Maria Theresa in 1743, and also appointed as a secret councellor. The most important role he fulfilled in the Court was Chairman of the Hungarian Chamber from 1748 to 1771.
As Chairman of the committee dealing with the arrangement of the confused status of properties following the 150 years of Turkish rule (Neoacquistica Commissio), besides the state chamber increased his own properties with intent. Gödöllő was the centre of a property of 135.000 Hungarian acres, beside which he had five other properties.
The works of art in one of the vitrines in the hall opening from the Oratory recall the Church sponsoring activities of the Grassalkoviches. Antal the 1st supported the construction or renewal of 33 churches and monasteries in his own properties, including the church in Máriabesnyő, a neighbouring settlement, where he had Capuchin monks settled down.
The permanent exhibition of the Royal Palace represents the history and living conditions of three generations of the Grassalkovich family.