Address:

1081, Budapest Köztársaság tér 20.

Phone number:

(1) 477-1347, (30) 411-6969

Opening hours:

Mon 9-11, Tue-Sun: on prior notice
The history of the gas supply in Budapest begins with the spread of the use of gas lamps in Europe and our country at the beginning of 19th century. The summary is made interesting by the contemporary girandoles, gas chandeliers and lamps.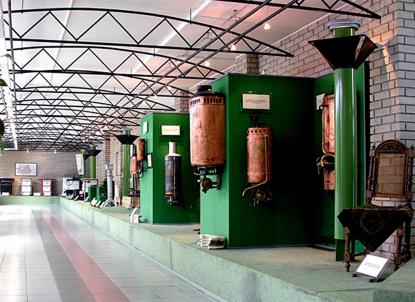 Hereafter we can follow up the history of the appliance manufacture between the end of the 19th cenntury and 1940. It is interesting to note that tmost of the objects exhibited are of Austrian or German origin. In Hungary the Weiss Manfréd Works was the first factory that began making fireplaces in the 1920'ies.
The technical development of gas meter production can be followed up between 190 and 1995. The section is closed by the currently used meter that works by a magnet card.
The most valuable and special part of the collection is made up by 6 pieces of gas-stoves made around the turn of the century.
In the "Kitchen of the 1930'ies" we can see the pieces of furniture and gas appliances then used. The marketing activities and offices of the Gas Works Co. are also represented.
In the middle of the exhibion space we can follow up the history of Hungarian gas production and supply through a good number of photographs, documents and objective relics.