Culture House and Library - Village Gallery
- Nagyréde
Address:

3214, Nagyréde Községi Könyvtában, Kossuth u. 1.

Phone number:

(37) 373-027, (37) 373-588

Opening hours:

Mon, Wed 13-19

Tue 8-12, 13-18

Thu 13-18

Fri 8-12, 13-18

Sat-Sun: on prior notice for groups
The permanent exhibition of József Molnár's lifework was opened in the former Isaák-Fáy mansion house. Although most of the artistic period of his life was spent in the capital, his emotions and art were tightly connected to his home land. Beyond the relational ties a genuine love toward the land and its workers is also a determining factor in his works.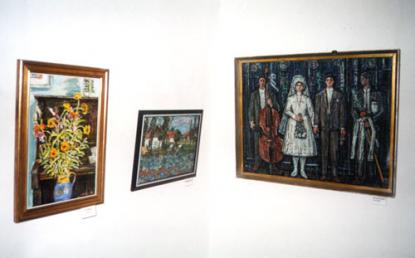 József Molnár was born in 1922 in Nagyréde. He completed his studies in the Fine Arts University - as Aurél Bernáth's student. He was not even an undergraduate when his work entiled Land distribution was awarded first prize on the World Youth Meeting held in Budapest.
The end of the 1940'ies was a hard period in the Hungarian fine arts. However, the it was easy for József Molnár to satisfy the tematic demand, for he had to paint scenes of his childhood and youth. He was in no need to discover the "Hungarian village" as a tourist coming from the town, for he was coming from among them. His relation to his home land has never ceased for a moment.
Around the 1960'ies the colourful and mild style of the artist became more and more gloomy. However, his foreign studies (1963. Paris,1975. Italy) helped him get out of the crisis. From this time on he again dared to be impressionistically smooth, naturally colourful, constructive and expressive.
At the beginning of his work he painted portraits and figural compositions. Later he liked to paint landscapes, towns and still lifes. Both popular and constructive endevours can be found in his works, which arte characterized by reality and humane feelings.
His works were rewarded on several occasions. In 1995 he received golden medal in the Hatvan Gallery (Faces and Fates).
(Text: László Borbély)