Etnographical Private Collection of Jun. József Lele
- Szeged - Tápé
Address:

6753, Szeged - Tápé Vártó utca 4.

Phone number:

(62) 631-996

Opening hours:

Temporarily closed.
The people of Tápa had a very unique way of building the walls of their houses. They devised this solution against the frequent floods. This way the water washed out the mud from between the pillars, but the roof and the reed-mace cover stayed. After the water was gone the structure had to be refilled and the walls repainted. When it all dried they could move in again. The last of these houses was built here in the 1950s.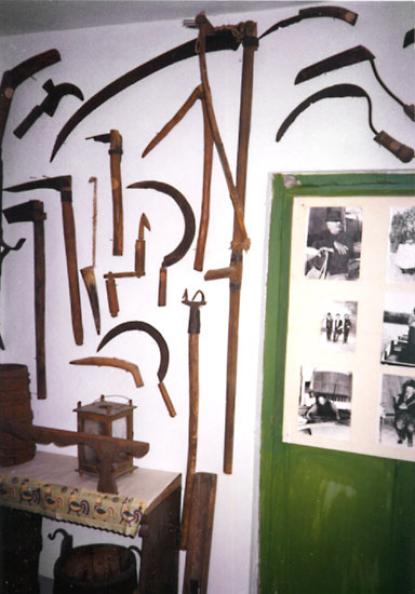 The interior was furnished by traditional furniture. The bridal chest was kept under the big beam, next to it was the table and the bench stood in the 'saint corner'. On the opposite wall were the beds that could be turned up, and on the other side stod the furnace. The walls have pictures of saints on, in the richer families photos. A commode, a civic piece, replaced the chest at the beginning of the 20th century. Since the commode was brown the other furniture was painted brown as well. The plates, dishes, calendars hang around the bottom of the chimney, the water pots were on the stand in one of the corner of the porch.
The people of Tápa were occupied by processing reed-mace in the 'large house', sitting on the floor like in ancient times. The children slowly learned the trade. By the time they grew up they knew every little detail.
Just like the typical houses of Tápa are gone by now, so are the bridal chests, the commodes, or the fishing and the reed-mace work. The dance called 'darudöbögős' , which received its name after the wedding-dance of the European crane, is only preserved by the local tradition-tending dance group. The songs of Tápa, the national dresses, the skirts, the colored aprons, striped tights, and coats etc. are also only preserved by this group. The racy dialect, which is organic part of the dialect of Szeged, is also kept by performing the songs.