Painter János Czencz Memorial Museum
- Báta
Address:

7149, Báta Fő út 17.

Phone number:

(74) 490-704, (20) 528-6289

Opening hours:

Mon-Fri 9-17, Sat-Sun 10-17

On prior notice other times are avaliable as well)
Museum tickets, service costs:
Mrs. Huszák born Marietta Cencz have been painting her Easter eggs in Báta, the most Southern corner of the region Sárköz since 1960. In Báta and in Sárköz it is an old tradition at Easter to present eggs to each other. The youngsters sent the most beautiful painted eggs in so-called "dish of the bethrothed" to their beloved ones.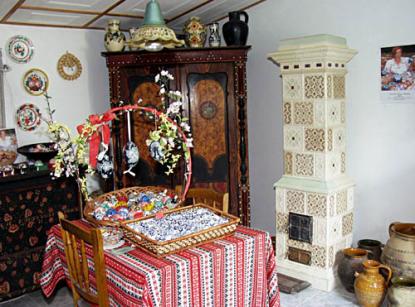 The Easter eggs are gelerally made in the following way: first we write the sketches on the eggs with beeswax - with batique work - then we dip the eggs in different coloured fluids and finally, when we wipe off the beeswax, the colours and ornaments come forward.
Mrs. Huszák born Marietta Czencz also uses techniques experimented by herself.
The ornaments written in black on a white ground and painted colourful are the ones used in the popular costumes.
The one-colour Sárköz ornaments on white ground, emphasised with gold colour are also often used by her.
Beside the Memorial Museum demonstrating the works of painter János Czencz, in a peasant room, we can see the Easter eggs of Mrs. Huszák born Marietta Czencz, and the labouring painter as well.