German Minority House
- Rátka
Address:

3908, Rátka Iskola tér 16.

Phone number:

(47) 374-019, (20) 542-1359

Opening hours:

On weekdays: 8-16, on bank holidays: on prior notice
Museum tickets, service costs:
The building originally hosted two families. The rooms opened from the kitchen used by both of them. The hall of one of the families faced the street; the other hall faced the backyard. In some cases, planks separated the large rooms. The first space was called the 'clean room', the inner space served as the kitchen where the tenants cooked and spent their days. Nowadays this is not a prevailing state.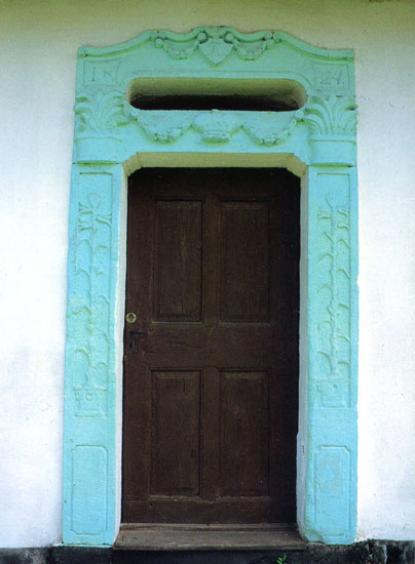 One window looked at the backyard and two windows looked at the street. The cupboard for cloths stood between the two windows of the street. Its lead was covered with an embroidered cover. The dishes and silverware used only at celebrations were kept on top. The devotional objects were lined up at the wall. Pictures of saints surrounded a large mirror on the wall over the cupboard. On its two sides candles stood.
The three other walls were also covered with pictures of saints and wall carpets. In the corner in the left stood the table surrounded by armed benches over which hang a kerosene lamp. At the wall in the back there were two beds placed on each other. Under them was a straw bag, over them a laced sheet with six pillows. At the end, a duvet folded into 'A' shape was placed. All these were covered with a white bedspread. The stove was on the right hand side next to the cross wall. Behind this, a stone doss for the child was hidden.
In the center of the kitchen at the bottom of the chimney, a square shaped furnace was placed. Over the room a stone free chimney stood. The smoke of both furnaces left the building through this. The cooking tools were hung on the walls.
The kitchen was followed by the back room. Presently an exhibition of folk clothing is situated there. It is followed by a chamber. When two families lived in the house, the chamber was separated.
The last premise is the barn. At the end of it was a stone manger, on the right a casual bed was placed for young men. The tool of yoking, the wood yoke can also be seen here.
The henhouse and the pigsty were placed at the end of the farm.
(Text: János Bencsik)