Region House
- Zengővárkony
Address:

7720, Zengővárkony Kossuth u. 6.

Phone number:

(72) 466-581, (72) 466-187

Opening hours:

15.03-11.15.: 10-18

16.11-14.03.: 10-15
Museum tickets, service costs:
| | | |
| --- | --- | --- |
| Ticket for adults | 300 HUF | / capita |
| Ticket for students | 200 HUF | / capita |
| Ticket for pensioners | 200 HUF | / capita |
| Ticket for families | 500 HUF | / family |
The ethnographic exhibition is seen in the first two rooms of the region house. Its objects represent the popular arts of Várkony of the end of the 19th and beginning of the 20th century.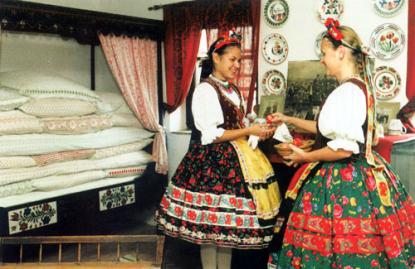 In the front house we can see fower-painted pieces of furniture arranged as an interiour. These objects were made by German woodworkers, adjusted to the taste of the buyers. A loom stands in the main corner of the room, in the place of the corner bench and the table.
In the former free chimneyed kitchen we exhibit pieces of furniture, wood carvings and old textiles. Photographs of the beginning of the century represent the lifestyle of the former inhabitants of the house and the local folk costumes.
In the third and fourth rooms there is a weaver workshop. Demanding homespuns are made here by the women of Várkony. Visitors can get a direct insight into one of the most important house industrial activities of the conventional cottier past.
In the rear kitchen - turned into a shop - visitors can purchase the items of ceramics and homespuns.