Local Historical Collection
- Hajdúdorog
Address:

4087, Hajdúdorog Jaczkovics út 5.

Phone number:

(30) 237-7360

Opening hours:

On prior notice: beyond the opening hours as well
In the middle of the Great Hungarian Plains, the people of Hajdúdorog also deal with animal husbandry and land cultivation. The instruments used in conventional peasant farming are the organic parts of our past history.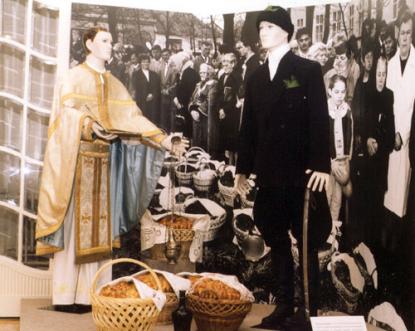 In the first room of the Ethnographic Permanent Exhibition we demonstrate the tools and other objects of land cultivation in the order they are used in the practical life.
The visitors can also see the instruments used in the animal husbandry. The slaugtering, the milk processing and the objective relics of the famous sheep keeping give us a taste of the conventional methods of peasant farming.
his In the second room we can see the "scene" of the Christmas table.
The matzo ceremony is a a feast celebrated in the Greek Catholic church. On Easter morning the citizens place the foods prepared for the consecration in pessah baskets: butter, salt, horse-radish, yellow cottage cheese, eggs, ham, sausage, and tuffed lamb. On the top there comes the matzo bread, which is covered by a cloth especially made for this reason. All these are supplemented by a glass of wine.
The Christmas table means much to everybody. It is not only a dining table, but also the place for rites, superstitions and sorcerer techniques. The events taking place around the table recall the riches and health of the family and the productivity of the animals.
One of the most spectacular scene of the Christmas feast is that of the so-called Betleheming. Through the goat masked game adults used to entertain others, meanwile children were carrying the star from house house. These are all represented in our museum.
The Ethnographic Permanent Exhibition was arranged by: Andrea Mislovics, technical performer: Zoltán Erdélyi (National Museum, Budapest), restorer: Dr. Judit P. Dombóváry (National Museum, Budapest). Photo: Róbert Szücs (Nyíregyháza).