Address:

7500, Nagyatád Széchenyi tér 2.

Phone number:

(82) 352-028

Opening hours:

01.04-31.10.: Mon-Fri 9-12, 13-17, Sat 14-17

01.11-31.03.: Mon-Fri 9-12, 13-16
Findings resulting from archaeological excavations in Bodvica (south part of city Nagyatád) in 2002 are placed in two glass cabinets. (This excavation was the first important one in the city.) There were remains of a rotunda (a church with circle basis) from period of King Mathias and findings from various graves found. The form of the church was considered very particular in the mentioned period because the circle ground plan was not typical that time yet. It is likely that the new church was built in the second half of the 15th century on a former church from the Árpád period. The most valuable finding is a silver denarius from 1514. It can help in specifying the age of the church.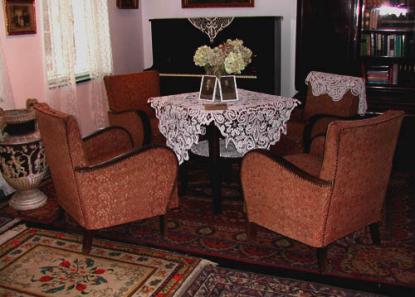 Collections in the other glass cabinets show various segments from history of Nagyatád in the 18-20th centuries. History of the important organisations and institutes (Franciscan church and monastery, schools, pharmacy) and of persons having determinant roles in the life of the city (e.g. József Babay, Ferenc Kutor) and families can be followed by the findings. Nice photos and documents from that time recall the history of the nearly hundred-year artesian thermal bath, the printing shop existing even now, railway traffic and banks. There are two glass cabinets containing relics from the First and Second World War concerning Nagyatád, respectively.
The permanent exhibition presents photos and documents mainly, but there is a smaller separated room where an exhibition (changing annually) presents information on the lifestyle. An interior typical for a civil family can be seen now here: sitting room of family Mezey. Károly Mezey was a tailor and the walls of the sitting room are decorated with nice paintings painted by his daughter Magdolna Mezey.