Göcsej Museum
- Zalaegerszeg
Address:

8900, Zalaegerszeg Batthyány utca 2.

Phone number:

(92) 346-736

Opening hours:

Temporarily closed.
Museum tickets, service costs:
Ticket for adults

600 HUF

/ capita

Group ticket for adults

(min. 8 people)

400 HUF

/ capita

Ticket for students

300 HUF

/ capita

Ticket for pensioners

300 HUF

/ capita

Ticket for families

(2 adults + 2 children)

1200 HUF

/ family

Group guide

(in more languages)

4000 HUF

/ group
The concept of the exhibition is to show the history of the three regional centers that ever existed on the territory of Zala County: the Roman Salla (Zalalövő), Mosaburg / Zalavár from the 9th century and the center town in the new age Zalaegerszeg.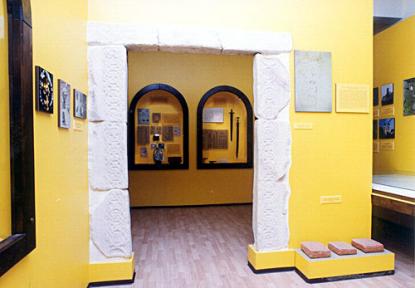 The three units are introduced and are connected by so-called time tunnels that give information on the history of the settlements in the ancient times, Original Settlement and Middle Ages. The role of the time tunnels to connect is emphasized by their dark brown color reminding of a cave. The color of the wards is lighter.
The result of the new researches is also presented. We provide of information on the history of the county too. We show the 400 piece coin collection of Salla,, the models mirroring the excavations in Zalavár or the reconstruction of the castle in Egerszeg. < br>
This is the first time the audience may see the mosaic from the Roman castle of Alsórajk-Kastélydomb or the reconstructed door of the monastery of Zalavár.
The third unit showing the history of the center of Zalaegerszeg gives on overview of how the little dusty town became of significant one by the 1960-1970's.