Albertfalva Region History Collection and School Museum
- Budapest
Address:

1116, Budapest Pentele utca 8.

Phone number:

(1) 208-6635

Opening hours:

Tue, Thu 16-18

(Closed in school breaks)
Museum tickets, service costs:
| | | |
| --- | --- | --- |
| Ticket | 100 HUF | |
| Group one-day ticket | 200 HUF | |
The wine collection exhibits more than 600 kinds of wine of 32 countries. Each of the 600 bottles of wine originate from different countries. Flags on the bottles indicate the country of origin. The collection work started off 30 years ago and is still carried out today. All wines have a separate catalogue.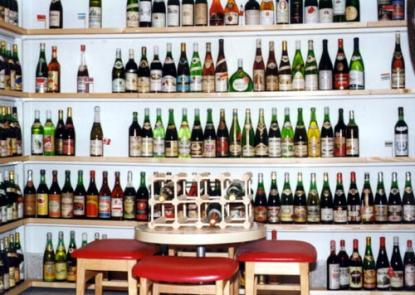 How come a wine collection was arranged in Albertfalva? The answer is easy. Albertfalva belongs to those regions where intensive vine cultivation had been carried on up to the end of the19th century. In the book written by Dr. József Halabuk in 1997 we find a number of quotations about this fact. Some quotations are as followed.
"The land is full of fat measows and productive grain fields. Various fruit trees also yield plenty of fruits, especially at the edge of the hilly area and the slopes of the vineyards."
"Several citizens of Buda and Pest owned vineyards around Promontori¬um (the former name of Budafok and Albertfalva) even at the end of the 18th century."
"All Albertfalvan citizens are to keep 6-7 acres of land to the left and right of their houses, down to the Danube and the vineyards."
The permanent exhibition also displays some tools connecting to the production and fermentation of wine. A special jug collection is also exhibited.
A number of photographs represents harvest balls held in the region. Several of our programs ended up wine tasting in the cellar of the museum, where the wine collection was placed, too.